The vibrantly coloured Trufis in Cochabamba, Bolivia serve daily commuters.
Most cities around the world run formal and informal public transport systems in parallel. An illustrative example is La Paz in Bolivia, where the city-operated, formal system consists of ten Teleferico cable car lines and seven Pumakatari bus lines that are complemented by a non-governmental, informal system of nearly 500 minibus lines with thousands of vehicles.
Many passengers combine formal and informal transport in their daily journeys also. In La Paz, they might take a cable car from El Alto to the city of La Paz and then transfer to a minibus to reach their final destination, as shown in the screenshot below from our Trufi journey planner app. The problem with such routes is that passengers often do not know all their options to get from A to B because informal routes are not typically mapped nor made publicly available, not to mention the lack of integration between formal with informal routes. The ultimate consequence is that public transport is less accessible and usable as passengers cannot choose the best route.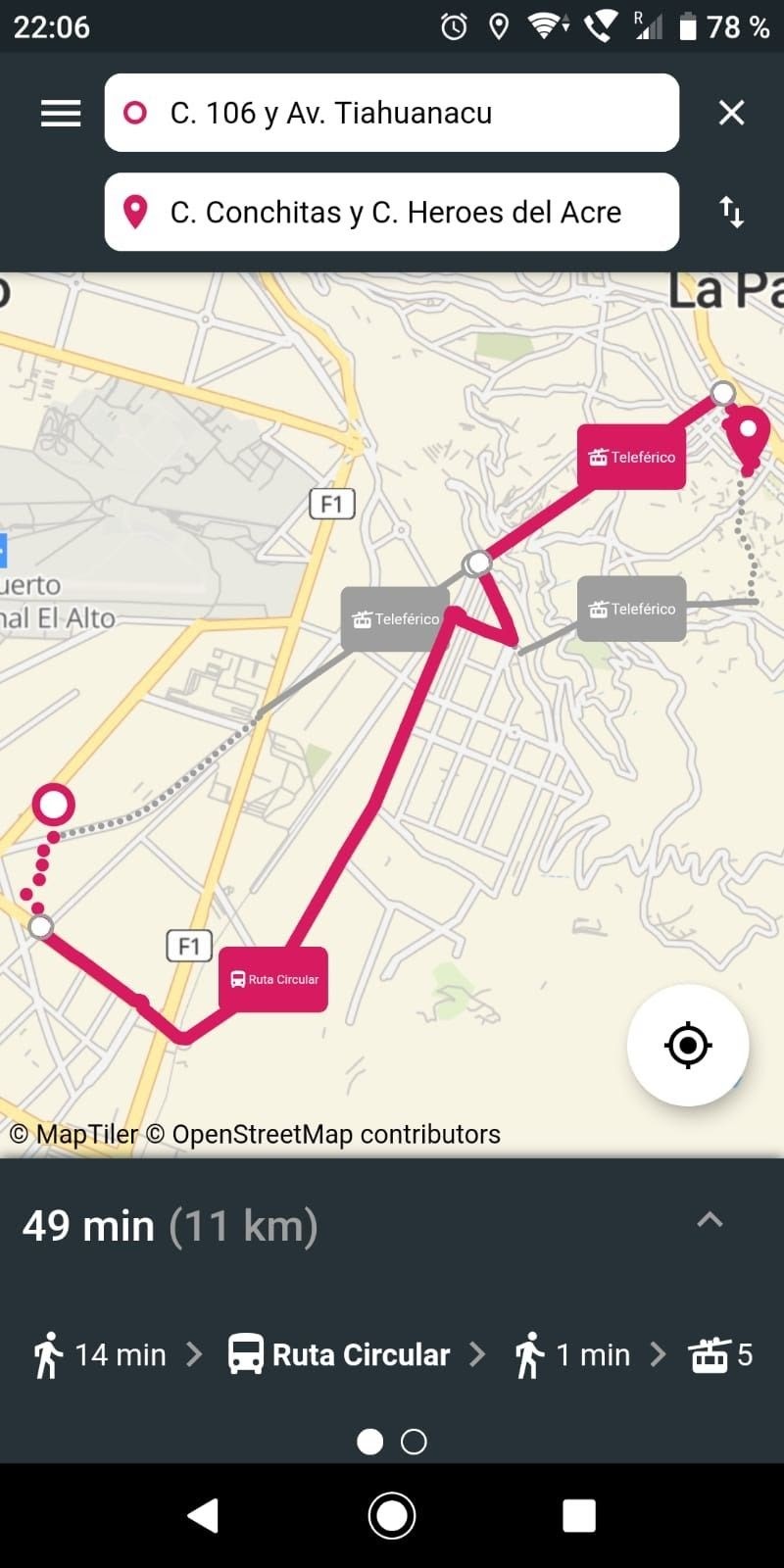 Using the Trufi app, commuters in La Paz are able to view the best possible public transport routes and modes to reach their destination. Most passengers are indifferent as to which kind of transport system or agency brings them from A to B. They simply want to choose the most convenient route. 
A multimodal journey planner app for passengers is key making public transport more accessible in cities like La Paz, Addis Ababa and Jakarta. Its basic and most important function is to show passengers how to get to their destination in the fastest and most comfortable way. This means it has to work in a multimodal fashion, combining walking, metro, cable car and tram lines, buses, minibuses and taxis and all other means of formal and informal transportation. Such an app must be fully user-centric rather than agency-centric.
Each city's public transport system has its special idiosyncrasies, of course. They differ by route numbers, colour codes and the way routes are organised and negotiated. They possess vehicles with different capacities and different colloquial names such as trufi in La Paz, trotro in Accra, dala dala in Dar es Salaam, matatu in Nairobi, and jeepney in Manila, to list just a few. Each city comes with locally established naming conventions for destinations, stops and waypoints. A useful, customized journey planner app must capture all these features so that it creates a real value-added service for the public transport system and its passengers.
Additionally, the journey planner app must be as usable for passengers as possible. The app should work in their local languages and dialects and align with local colour preferences. The app has to know all points of interests, streets and crossings along each route. It has to incorporate formal and informal routes and, if available, operation times, agencies and schedules. If the vehicles are GPS-tracked, the app should display their real-time location and arrival time.
There is no one generic journey planner app that works for all cities. Each city needs its own, customised app. The dilemma is that cities should focus on documenting formal and informal routes and improving transport links instead of building a new app from scratch. 
Introducing Trufi – a platform for cities to build their custom transit journey planner
Trufi is a platform for multimodal journey planner apps that city authorities or local entrepreneurs in cities with formal and informal transport systems can easily adapt to local specificities, languages, touch and feel. We are looking beyond mere technological solutions and focusing on what makes a real difference: matching multimodal journey planning across formal and informal transport systems with a smooth, localised and user-friendly experience.
To best support cities, we made Trufi completely open source. The full source code is available on GitHub and is the basis for a customised journey planner app. Cities can also license premium features with Trufi, such as mobile bus ticketing or GPS live tracking, and develop individual features themselves. With our open source license, these features and the constantly evolving app benefit Trufi's growing community of cities around the world.
Our mission at Trufi Association is to support cities to make informal public transport more attractive and accessible. We help city authorities and local entrepreneurs to implement and customise the Trufi app. We also support local public transport mapping communities. In principle, we provide three different services:

The city creates and hosts the journey planner app on their own, based on standard documentation available on Trufi's GitHub and with the help of local developers and local mappers.

Trufi Association helps the city with creating, adapting and rolling-out a customised journey planner app that will be hosted and managed by the city.

Trufi Association creates and manages a distinctive app for the city based on the Trufi platform, and we can even build or license proprietary features such as mobile ticketing.
Our vision is that many cities will launch a multimodal journey planner app that is as unique as their public transport and truly useful and user-friendly for the people they serve.
Christoph Hanser is Co-founder and President of Trufi Association in Hamburg, Germany. When Christoph lived in Bolivia in 2010, he saw a great need for digital solutions to make the informal public transport system more accessible. As a public transport enthusiast he wants to reduce complexity, unreliability and make public transport more available and more attractive in cities like La Paz. For his journeys, he is mainly cycling, taking public transport and sharing a car with other families. Besides Trufi, he is the CEO of QUIBIQ Hamburg, an IT company specialised in enterprise application integration. Follow Christoph on LinkedIn or email at christoph.hanser@trufi-association.org
Lukas Borkowski co-leads the development of a new strategy and business model aimed at scaling the Trufi app model to more cities. Lukas loves public transport, usable and useful digital solutions and international development, and he has rode public transit in numerous cities in Africa and Asia. In his professional life, he helps donors use appropriate digital solutions for behaviour change projects in Africa and Asia as the European Partnerships Lead at Viamo – improving lives via mobile, a global social business in digital for development. Follow Lukas on LinkedIn or email at lukas.borkowski@trufi-association.org
Main photo © 2020 Christoph Hanser
Screenshot (Trufi app) © 2020 Trufi Association
Some rights reserved. All contents of this article are licensed under the Creative Commons Attribution 4.0 International License.