DT4A launched the DT4A Innovation Challenge in December 2021 to spotlight and award innovative urban mobility mapping initiatives. The first four winners of the DT4A Innovation Challenge were chosen in June 2022 from more than 100 submissions. AddisMap (Ethiopia), Ewarren (Côte d'Ivoire) and GoMetro (South Africa) are nearing completion of their projects and sharing their impactful stories across Africa.  
Check out what our innovation winners are up to, in their own words:
AddisMap: As part of the grant implementation program, AddisMap, in collaboration with DT4A, initiated capacity-building training sessions for staff at the Addis Ababa Transport Bureau (AATB). The training, conducted over the course of three separate sessions, focused on transit data collection, visualization and editing of collected data and concluded with a collection field test. The sessions were well-received by AATB staff, who expressed a strong interest in learning more about these topics. The training sessions will continue in the future with well-planned curriculum and programs.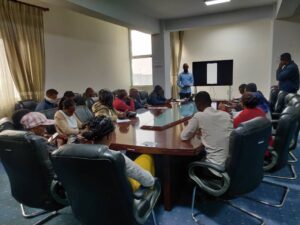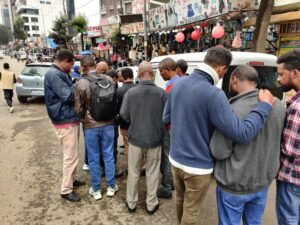 Training sessions provided by AddisMap and WRI Teams to AATB staff on field transit data collection, visualization and editing. 
In line with our efforts to promote the AddisMapTransit app, we recently conducted a successful two-week Facebook advertising campaign. The campaign reached more than one million people and resulted in roughly 2,000 downloads. We encourage you to experience its convenience by downloading the app today or by accessing the web version, here. We are also placing stickers containing QR codes of the app's download link in public places to reach more people. The campaign will be supported by a physical promotional activity that will be done in collaboration with the Addis Ababa Traffic Management Institute's 'Car Free Day'." – Alazar Tekle, GIS Expert, AddisMap 
 Ewarren: "The Ewarren team is excited to share the latest updates on our project. We are nearing the completion of this transformative endeavor and are proud to have achieved significant milestones along the way. One of our key focuses has been the development of an automation report that outlines a groundbreaking methodology for transforming static GTFS data into dynamic GTFS data. This innovative approach has the potential to revolutionize transit systems by enhancing their efficiency and effectiveness. We are thrilled to be at the forefront of this exciting advancement. 
Additionally, we are pleased to announce the successful launch of our ticketing solution on two mini-bus commuter lines: Liberté (Adjamé) and Gabriel Gare (Yopougon). This represents a significant achievement for us as we enable the conversion of static data into dynamic data, improving the overall user experience. The positive response and feedback from passengers have been encouraging, motivating us to further expand the implementation of this cutting-edge ticketing system. We are actively engaged in discussions with other commuter lines to pilot and expand the reach of our solution. By collaborating with various stakeholders, we aim to create a seamless and convenient travel experience for commuters across Abidjan." – Karamoko Camara, CEO & Founder, Ewarren 
GoMetro: "In July, GoMetro successfully concluded its participation in the DT4A Innovation Challenge, culminating in the publication of a blog that narrates the project's journey, discusses encountered challenges and celebrates its outcomes., The GoMetro team expresses heartfelt gratitude to the DT4A staff and program for their invaluable support in driving the progress of decarbonizing paratransit systems in Africa. Their facilitation has been instrumental in enabling the GoMetro team to advance towards this shared vision of sustainable and environmentally friendly transportation in the Country." – Rudi Kriel, Transport Economist, GoMetro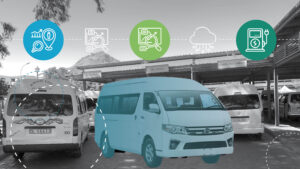 Electric Minibus Taxis (e-MBTs) are not only feasible but highly beneficial for Stellenbosch. Data from the study indicates potential savings of up to $12,500 ZAR per month in fuel costs.