The DigitalTransport4Africa (DT4A) project launched the Innovation Challenge in December 2021 with the aim of providing financial and technical support to initiatives that work towards transforming transit systems in African cities. The DT4A Innovation Challenge will build the capacity of innovators with groundbreaking ideas to overcome problems in the public transit sector from the ground up.
We promoted the challenge mainly through social media and email campaigns until submissions closed on 16 February. We have received a total of 116 complete applications from research and academic institutions, startups, and NGOs in 29 countries. Most of the applications came from organizations that are based in Africa. A couple of applications were also received from organizations based in France, Canada, USA and Germany to initiate projects in African cities.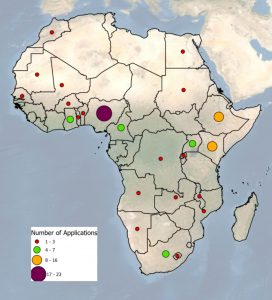 Fig. 1 Geographic distribution of proposed project locations  |  Background layer source: https://open.africa/dataset/africa-shapefiles
The focus area of the applications fall under the three application categories—Out of the 116 applications, 88 applications focus on tech, application and tools development while 23 applications are related to capacity building and the rest 5 applications are focused on conducting research and analysis.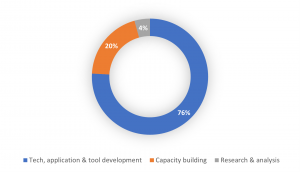 Fig. 2 Applications by category
Currently, the DT4A team is assessing and evaluating the submitted proposals. We will conduct interviews with candidates, background checks, and site visits between mid-March and early May 2022. The four winners of the challenge will be announced on 31 May 2022.