Welcome to the November edition of DT4A Newsletter. Find out what's new at DT4A and in the digital transport ecosystem and much more. Enjoy the read!
Stay tuned for more via the DT4A webinar series, newsletter, and @WRIAfrica and @WRIRossCities.
DT4A Repository Receives New Data from Abidjan
We're excited to announce that DT4A recently acquired a General Transit Feed Specification (GTFS) dataset from the vibrant city of Abidjan, Côte d'Ivoire. Data was collected by Ewarren with funding from DT4A's Innovation Challenge.
The Ewarren team embarked on an extensive data collection endeavor, meticulously covering an impressive network of 490 routes across the 13 municipalities in Abidjan and Grand Bassam District. From November to May 2023, they diligently gathered data to create a comprehensive and detailed GTFS dataset. This addition to our repository offers invaluable insights into Abidjan's paratransit system. Researchers, developers and policymakers will greatly benefit from this dataset, as it serves as a valuable resource to analyze and enhance the city's transit network.
Stay tuned for further updates and insights from the DT4A initiative as we continue to drive sustainable and innovative solutions in the transport sector!
Access the new GTFS dataset on our GitLab site.
DT4A at Africa Climate Summit and Africa Climate Week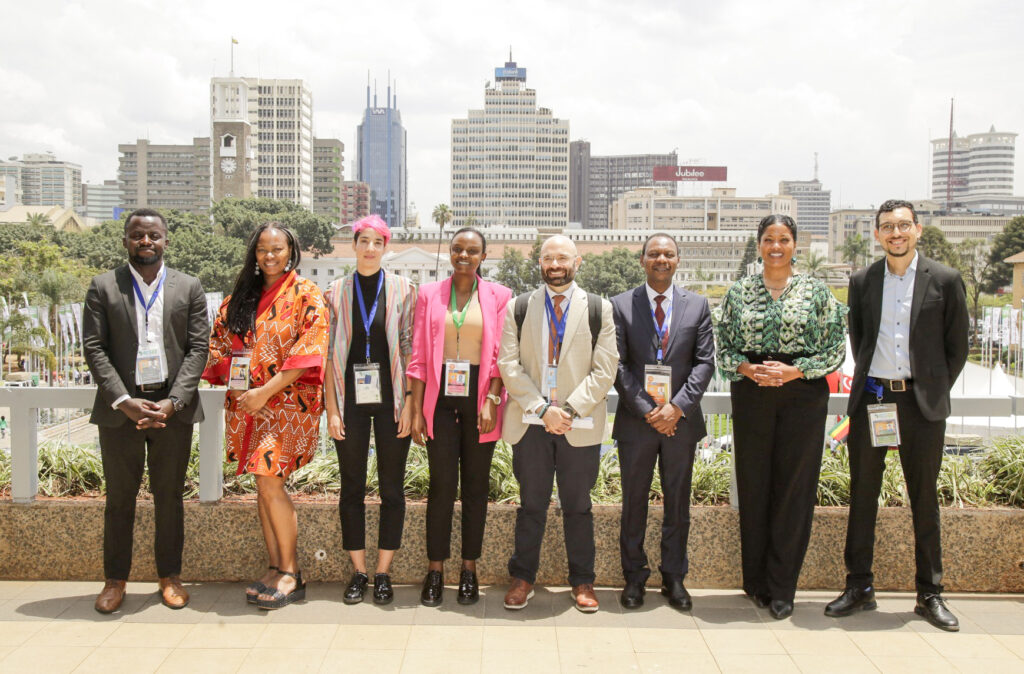 WRI-led panel, "Connecting Informal Transport to the Climate Agenda." Photo: DT4A Source: DT4A
DT4A participated in Africa Climate Week, September 4-8, 2023, in Nairobi, Kenya. Hosted by the government of Kenya, the event comprised two parallel gatherings: Africa Climate Week and the Africa Climate Summit.
During Africa Climate Week, "Connecting Informal Transport to the Climate Agenda," shed light on the critical relationship between informal transport and climate goals. The discussions emphasized the need for ambitious actions outlined in Nationally Determined Contributions and explored potential solutions such as electrification, carbon markets, emission tracking and equitable approaches. Engaging discussions covered various topics, including the Pretoria to Johannesburg minibus taxi improvement project, the role of informal transport in climate diplomacy and potential equity-based solutions.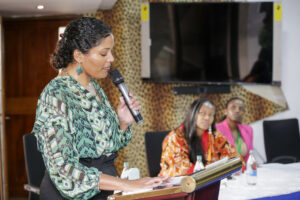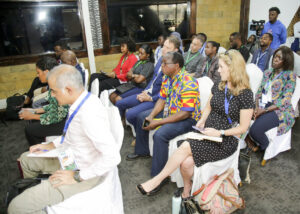 Rebekah Shirley, Deputy Director of WRI Africa, delivering opening remarks to participants at Africa Climate Week. Photo: DT4A
The event also highlighted the shifting narrative surrounding informal and paratransit transport towards a more inclusive approach. Rather than relying solely on strict regulation, the focus is now on integration and planning, recognizing the essential role of paratransit operators. Electrification of the sector was emphasized, but with the understanding that it should be addressed holistically, considering the unique context of African cities where informal transport is vital to the daily lives of many individuals.
One of the key takeaways was the recognition that funding commitments, digitalization of informal transport and access to technologies play pivotal roles in integrating informal transport into the climate agenda. To build resilient communities and ensure access to basic needs, it is crucial to have efficient and resilient informal transport systems that prioritize inclusivity and seamless integration for all.
Digital Technology: A Key Enabler for Sustainable Urban Mobility in Africa – African Cities Magazine Interviews Antoine Chevre
We are thrilled to share an interview with Antoine Chevre, a Senior Transport Specialist in the Mobility Division of the Agence Française de Développement (AFD), discussing the pivotal role of digital technology in driving sustainable urban mobility across Africa in African Cities Magazine. Antoine sheds light on the multitude of digital opportunities available, as well as the challenges faced in their implementation.
Antoine provides insights into how digital solutions can enable effective management of diverse transport operators, empowering public authorities to create efficient and sustainable mobility systems. As part of the interview, Antoine delves into the work of DT4A and how data-sharing and standardizing data is revolutionizing the African transport landscape. The GTFS standardized, interoperable data format is essential for enhancing collaboration and unlocking the full potential of digital solutions for urban mobility in Africa.
Read the full interview in African Cities Magazine here.
Digital Commons: New Blog from DT4A and Columbia University
"Creating a Digital Commons to Harness Data for Africa's Urban Transport Systems," by Jacqueline M. Klopp, Agraw Ali Beshir and Esthelyne Dusabe, explores the transformative potential of data and digital technologies in African cities, emphasizing the significance of responsible data utilization and robust governance. It sheds light on the opportunities presented by advancements in computing power and mobile phone-generated data, which have the power to revolutionize urban governance, service provision and transportation systems. The blog also showcases the ongoing efforts of the DT4A initiative in developing strategies to address challenges and unlock the potential of data-driven urban transport systems in Africa. Join us in shaping Africa's urban future through responsible data practices.
DT4A at State of the Map Africa
We are excited to announce that the DT4A initiative, in collaboration with esteemed partners, will be participating in the upcoming State of the Map Africa conference. Scheduled to take place from November 30-December 2, 2023, in Yaoundé, Cameroon, this bi-annual regional conference celebrates the culture of open mapping, open data and GIS tools for local development by showcasing their impact across Africa.
During the conference, WRI in partnership with the Agence Française de Développement (AfD) and the Transformative Urban Mobility Initiative (TUMI) implemented by Deutsche Gesellschaft für Internationale Zusammenarbeit (GIZ), will host a workshop on "Unlocking the Potential of Sustainable Mobility Data in Africa: A Workshop on Mapping and Innovation." This workshop aims to explore the opportunities and challenges of utilizing data to enhance transportation systems across the continent. Join us December 1, 2023, at the United Hotel in Mbankomo, Cameroon.
Stay tuned for more updates and details on our participation in the State of the Map Africa conference.
DT4A at COP28
The DT4A initiative will also be participating in COP28. A session on "Climate Action in Informal Transport: Curating Data for Emissions Reduction and Service Improvement" will take place on December 4, from 1:15-2:30pm GST, Voco Bonnington Dubai. During this session, we will highlight our ongoing efforts to address data limitations and utilize public transport data for reducing emissions and enhancing service quality in the informal transport sector. Additionally, we will present preliminary findings from DT4A study in Zambia, showcasing the potential of data-driven solutions for urban mobility.

Our esteemed panel of speakers includes representatives from African governments actively involved in transportation systems, such as officials from Ghana, Kenya, and other countries. We are also honored to have the participation of institutional partners, including Deutsche Gesellschaft für Internationale Zusammenarbeit (GIZ) through the Transport Data Commons Initiative (TDCI), Transformative Urban Mobility Initiative (TUMI), Agence Française de Développement (AFD), and the Sub-Saharan Africa Transport Policy Program (SSATP) under the World Bank. They will share their valuable insights and experiences in implementing climate action measures and data-driven solutions in the informal transport sector.

We invite stakeholders from the transport community attending COP28, climate policy stakeholders from national and sub-national levels in low- and middle-income countries, city-level participants at COP28, and members of the donor community to join us for this insightful session.

Please contact Ben Welle (ben.welle@wri.org) and Esthelyne Dusabe (esthelyne.dusabe@wri.org) for more information about how to attend.
DT4A Webinar Series
The DT4A Webinar Series is a monthly webinar organized by WRI and consortium partners to facilitate knowledge exchange around public transport and data initiatives in African cities and beyond.
Navigating Daily Mobility – Transportation, School and Safety in Kinshasa's Digital Age | October 4, 2023
This webinar was conducted and recorded in French. An English description of the webinar is provided below. This webinar focused on exploring students' digital practices and mobile phone usage for daily mobility in Kinshasa, Democratic Republic of Congo. The findings revealed low adoption of navigation and transportation mobile apps among students, while social media indirectly influenced their mobility patterns and safety perceptions. Despite the challenges of unreliable transport and urban insecurity, students showcased resourceful alternative mobility approaches that did not always rely on digital tools. This webinar provided valuable insights for researchers studying digital technology adoption in mobility practices, for digital service providers seeking better alignment, and for institutional and international actors interested in adjusting public transportation policies.
Public Transport Mapping in West Africa and Lebanon | November 15, 2023 | 9 – 10am ET | 5 – 6pm EAT | 2 – 3pm WAT
The webinar showcases the mapping of public transit systems in West African cities and Lebanon. In West Africa, the dynamic nature of informal or popular transport systems poses challenges for updating maps in OpenStreetMap (OSM). The lack of coordination among mapping organizations compounds these issues, resulting in inaccurate data and redundant efforts. During the first part of the webinar, the Data Transport team will share practical insights into best practices for public transit mapping and community engagement in the region. In the latter part of the webinar, the Riders' Rights team will present their history promoting mobility justice. Attendees will learn how the Bus Map platform is used to collect data on informal transport networks in Lebanon, including methods such as tracking bus lines and presenting data online and in the webapp.
Cartographie des Transports en Commun en Afrique de l'Ouest et au Liban
Ce webinaire est consacré à la cartographie des systèmes de transports en commun dans les villes d'Afrique de l'Ouest et au Liban. En Afrique de l'Ouest, la nature dynamique des systèmes de transport informels ou populaires pose des défis pour la mise à jour des cartes dans OpenStreetMap (OSM). Le manque de coordination entre les organisations de cartographie aggrave ces problèmes, entraînant des données inexactes et des efforts redondants. Au cours de la première partie du webinaire, l'équipe Data Transport partagera des informations pratiques sur les meilleures pratiques en matière de cartographie des transports en commun et d'engagement communautaire dans la région. Dans la seconde partie du webinaire, l'équipe Riders' Rights présentera l'historique et les efforts de leur ONG pour promouvoir la justice en matière de mobilité. Les participants découvriront comment la plateforme Bus Map est utilisée pour collecter des données sur les réseaux de transport informels au Liban, notamment des méthodes telles que le suivi des lignes de bus et la présentation des données en ligne et dans l'application web.
Intervenants:
Anebo Philippe, Data Manager, Data Transport
Idriss Tinto Tegwendé, Senior Community Manager, WNAH (HOTOSM)
Dr. Carine Assaf, Postdoctoral Researcher at KU Leuven and member of Riders' Rights
Mr. Chadi Faraj, Co-founder of Riders' Rights
Please follow this link for registration.
DT4A Innovation Challenge
DT4A launched the DT4A Innovation Challenge in December 2021 to spotlight and award innovative urban mobility mapping initiatives. The first four winners of the DT4A Innovation Challenge were chosen in June 2022 from more than 100 submissions. AddisMap (Ethiopia) and Ewarren (Côte d'Ivoire) are nearing completion of their projects and sharing their impactful stories across Africa.
Check out what our innovation winners are up to, in their own words: 
AddisMap: "As our project nears completion, AddisMap has been dedicated to conducting a comprehensive field survey and two insightful focus group discussions (FGDs) addressing the role of women in public transport planning, policymaking and accessibility. The survey and FGDs successfully engaged a diverse range of participants, including representatives from the Addis Ababa Transport Bureau, Addis Ababa City Bus Enterprise, Addis Ababa Traffic Management Agency, street vendors, university students and non-governmental organizations. We are currently compiling the research findings, which will be shared soon with our esteemed partners and stakeholders. These findings hold significant importance in informing the development of gender-sensitive transportation policies and programs, not only in Addis Ababa but also in other cities throughout the country." – Alazar Tekle, GIS Expert, AddisMap
Ewarren: "We are thrilled to announce that the Ewarren team has been chosen by the Greater Abidjan Urban Mobility Authority to develop a cutting-edge mobility platform for the highly anticipated African soccer competition in Côte d'Ivoire. As we diligently work on the final report, this remarkable opportunity marks a significant milestone for both Ewarren and DT4A. The mobility platform developed by the Ewarren team will provide essential traveler information, competition schedules and insightful details about the host cities. From January 13, 2024 to February 11, 2024, this event promises to captivate audiences and showcase the power of innovative urban mobility solutions. The Ewarren team's selection was primarily influenced by the invaluable data collected during the mapping project conducted as part of the DT4A Innovation Challenge. Leveraging this comprehensive dataset, the team has crafted a compelling value proposition that impressed the Greater Abidjan Urban Mobility Authority. Stay tuned for further updates as we embark on this remarkable journey together." – Karamoko Camara, CEO & Founder of Ewarren
Partners Corner
Paratransit Day
Discover the valuable insights shared by participants during a workshop on "Reimagining the Techno-Social Infrastructure for Collecting Data on Informal and Shared Mobility in LMICs." Held during Paratransit Day at the Transforming Transportation 2023 conference in Washington, DC, the workshop was organized by the Global Network for Popular Transportation and supported by the Volvo Research and Educational Foundations. Check out the summarized findings below and explore the full report to gain a comprehensive understanding of the discussion and recommendations.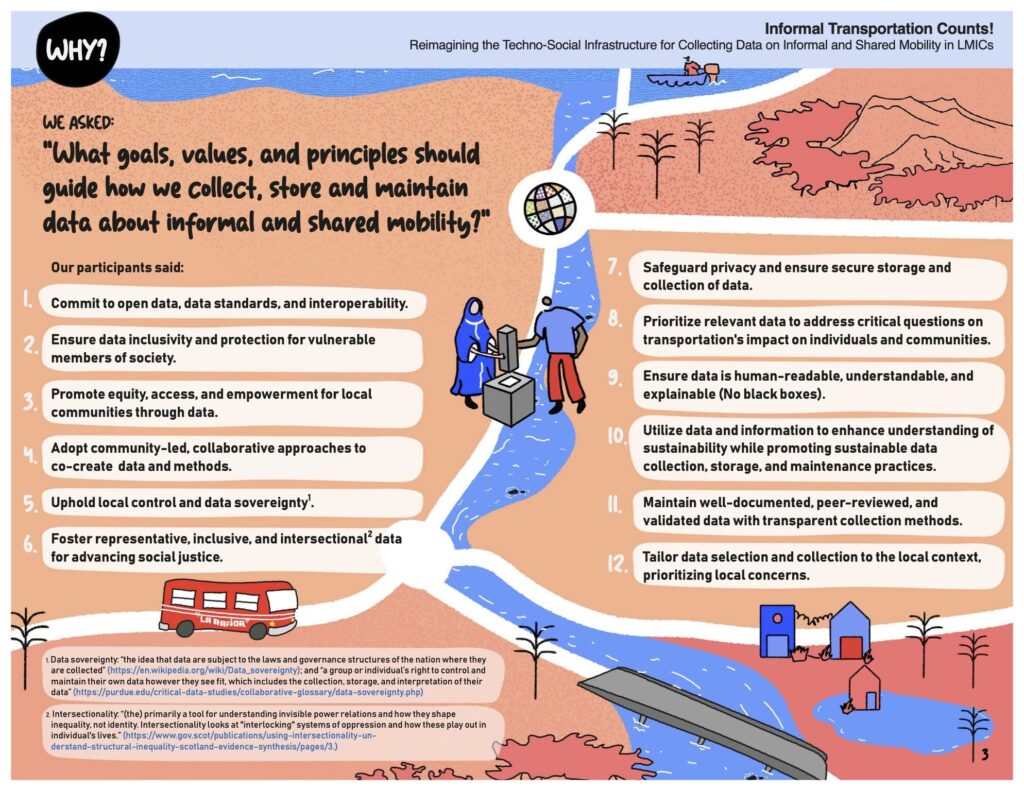 Source: Global Network for Popular Transportation
Women Mobilize Women E-Course
Join "An Introduction to Gender and Mobility in Emerging Economies," an e-course offered by GIZ initiative Women Mobilize Women.
This 4-week online course explores the intersection of gender and mobility, highlighting the importance of gender-responsive planning in improving transport access for all. The course is designed for policymakers, transport planners, and researchers, with no prior gender expertise required. Enroll for free by selecting "limited access" on Future Learn and starting at any time during the course run, open for enrollments until November 5.
Topics include:
Week 1: Do women's need matter in mobility and transport?
Week 2: What are women's mobility patterns and needs?
Week 3: Women working in mobility and transport
Week 4: Collecting data that supports gender-sensitive decision-making
Upcoming! If you would like to be featured in our next newsletter, please contact Esthelyne Dusabe at esthelyne.dusabe@wri.org.
The DigitalTransport4Africa (DT4A) initiative, led by WRI and partners and funded by the French Development Agency (AfD), is a digital data commons community that supports improved public transport and access in Africa. We promote open, standardized data, open-source tools, ethical data stewardship and peer-to-peer sharing.