Welcome to the June edition of DT4A Newsletter. Find out what's new at DT4A and in the digital transport ecosystem and much more. Enjoy the read!
Stay tuned for more via the DT4A webinar series, newsletter, and @WRIAfrica and @WRIRossCities.
Celebration of 'Women Mobilize Women' 5-Year Anniversary Conference
It was a great pleasure for WRI to join the Women Mobilize Women (WMW) conference to celebrate its 5th anniversary in Leipzig, Germany, organized by Transformative Urban Mobility Initiative (TUMI) from May 23 to 26. Participants reflected on the journey the initiative has taken since its beginning, transforming from a network to an initiative that focuses on building a community of experts, gathering knowledge on gender-transformative approaches and piloting projects. The event was a great opportunity for participants to foster collaboration, build networks and continue empowering women in the transport sector. WRI specifically took part in the sessions on « Mapping Danger: The Use of Data for Safe Public Spaces and Transportation Systems » and « Accessible and Sustainable Transport Systems in African Cities: Filling in the Data Gap. »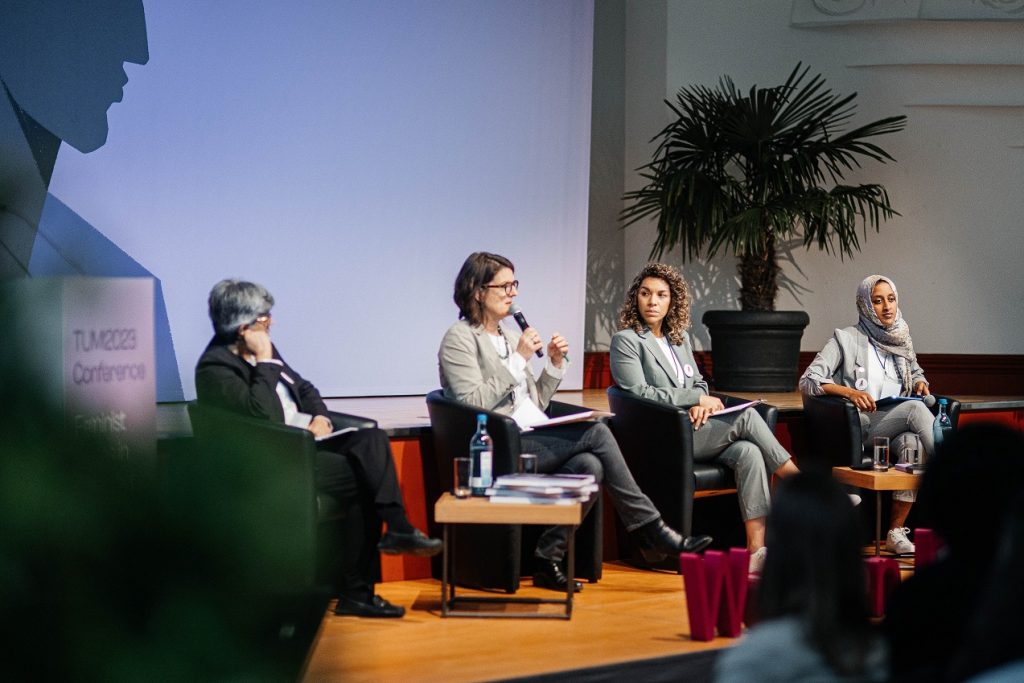 A panel convened by the WMW on Mapping Danger: The Use of Data for Safe Public Spaces and Transportation Systems.
Iman Abubaker, Urban Mobility Project Manager for WRI Africa, said in her own words: « It was an honor to attend the Women Mobilize Women event. It is indeed a remarkable event that celebrates the women that are paving the way for safer streets and cities for women and for those that are underserved. Being together brings the human element, a place to get personal and share stories and experiences. It was refreshing to be in a space where being personal matters because it is through the stories of pain, stories of vulnerability, stories of systems and policies that have failed us, stories where we were told we failed those that needed us the most, that we are able to learn, grow and change the world around us. I want to thank TUMI, GiZ, fellow panelists and attendees and commit that DT4A, in collaboration with our partners, will work to improve access and safety for women in African cities. »
Lusaka Project Kicks Off
WRI, in partnership with Loughborough University through the UK Foreign Development and Commonwealth Office's Flexible Research Fund, is pleased to announce the upcoming kick-off event « Mapping Public Transport in Lusaka, Zambia: Quantifying Environmental and Equity Impacts of an Integrated System" which will take place in person on July 4, 2023, at Radisson Blue, Lusaka. In collaboration with local partners Zambia Road Safety Trust, Smart Solutions Ltd, and Transport for Cairo, a WRI consortium partner, we aim to implement a people-centered research agenda that revolves around the comprehensive mapping of the public transport system in the urban and peri-urban areas of Lusaka to develop user-friendly tools for modeling and estimating greenhouse gas emissions from bus fleets, quantify the access level of integrated public and non-motorized transport systems, and identify suitable non-motorized transport corridors based on accessibility analysis and on-the-ground non-motorized-user audits and road safety inspections.
If you are in Lusaka on July 4 working in the digital transport network, we invite you to join us at Radisson Blue. The kick-off event will be an opportunity to meet all project teams and key stakeholders. We will share insights from the DT4A initiative and discuss the milestones of the Lusaka project. We look forward to seeing you there and connecting with professionals in the digital transport network.
For more information, please contact +26 0961475610 or email daniel.mwamba@zambianroadsafety.org.
DT4A Webinar Series
The DT4A Webinar Series is a monthly webinar organized by WRI and consortium partners to facilitate knowledge exchange around public transport and data initiatives in African cities and beyond.
Introducing the Transformative Urban Mobility Initiative (TUMI) Mobility Data Hub | May 31, 2023
This session focused on the TUMI Mobility Data Hub. Frederic Tesfay and Lena Plikat from GiZ/TUMI presented the global urban mobility data that includes data from 49 cities, 1149 datasets and 2073 resources covering topics such as public transport, urban planning, air quality, and more, all of which can be accessible in a single place. The TUMI team also highlighted how open-source solutions can be used around the world to efficiently collect, organize and share data, leading to more sustainable mobility.
Building Mobility Justice in Informal Transport – A Practical Intervention | June 21, 2023
This webinar will share the findings and implementation of a pilot project creating a new route in the informal transport network in Kampala, Uganda. Co-designed with operators, minibuses were subsidized to link two distant minibus stages without passing through the congested downtown. The pilot operated for three weeks, and after the withdrawal of the subsidy, transport operators have continued to independently provide services on a subsection. This new service is disproportionately used by women in informal employment, replacing up to 2-hour long walking trips or expensive and dangerous motorcycle-taxi rides, and reducing their transport costs by up to 80%. It has also increased passengers and revenues for the operators by approximately 7%.
Informal transport is the dominant, and often only, form of mass transit in African cities, and around the world. With no subsidies for operation or central planning by state or city authorities, the geography of services and the accessibility they provide is a function of the market. Operators often follow historical patterns, some dating back to the colonial period. With new maps of informal networks, studies suggest the extent of spatial coverage can be limited. Operators tend to over-concentrate on the densest corridors, while leaving other areas underserved, particularly lower-income neighborhoods and the urban periphery. This study tests an approach to effectively identify gendered and classed service gaps and suggests a light-touch policy for cities in supporting existing informal operators in closing those gaps.
Speaker: Tamara Kerzhner, PhD Candidate, Department of City and Regional Planning, University of California Berkeley.
Please follow this link for registration.
Join Us: If you are interested in presenting your work at one of our webinars, please fill out one of the webinar timeslots: DT4A Webinar Series. Your presentation should be directly related to digitalization, mapping and innovative public transport projects in African cities. The presentation should have African representatives as well as gender balance.
DT4A Innovation Challenge
DT4A launched the DT4A Innovation Challenge in December 2021 to spotlight and award innovative urban mobility mapping initiatives. The first four winners of the DT4A Innovation Challenge were chosen in June 2022 from more than 100 submissions. AddisMap (Ethiopia), Ewarren (Côte d'Ivoire), GoMetro (South Africa) and KhartouMap (Sudan) are now in the midst of a 12-month implementation period and telling their stories of impact across Africa.
Check out what our innovation winners are up to, in their own words:
AddisMap: "AddisMap is on a mission to digitize the paratransit sector in Addis Ababa. As part of this effort, we have conducted a comprehensive data collection of city minibuses. We have taken 574 trips and collected 287 verified routes (with both forward and return trips). This data is now in the final stages of being uploaded to OSM, from where we will extract the GTFS data set. This data collection has provided us with an in-depth insight into the para-transit operations of the city. This will serve as a valuable resource to identify the gaps where the public lacks flexible and consistent transportation services. It will also help us analyze the effectiveness of the routes assigned by the Addis Ababa Transport Bureau.
In addition to this data collection, AddisMap is also working in collaboration with the Addis Ababa Transport Bureau to host the first-ever Transport Technology Forum. This forum will bring together key stakeholders from various sectors and fields to work together in providing the city with a transport infrastructure and information service that will ensure we are a step closer to achieving Sustainable Development Goal 11.2. We are confident that these initiatives will significantly contribute to improving the transportation system in Addis Ababa. We are excited to work with our partners to make this a reality." – Alazar Tekle, GIS Expert, AddisMap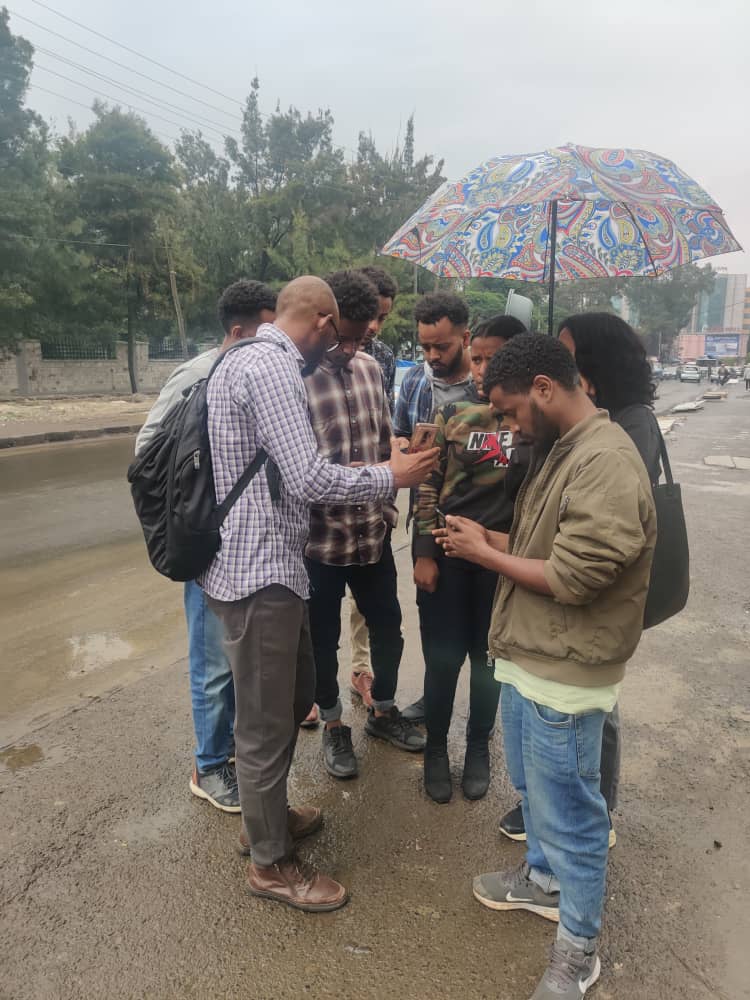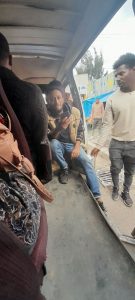 Mapping data collection on minibus taxis by the AddisMap team in Addis Ababa.
Ewarren: « While working with our GTFS and software development experts to complete the project reports, the Ewarren project team presented the first version of ticketing app, considered as the first tool to turn the static GTFS into dynamic GTFS around informal transport dataset. The pilot test will start in two weeks with one Gbaka commuter line and one traditional ferry commuter line. The Ewarren team was invited by the Japan International Cooperation Agency during the first seminar to discuss the Intelligent Transport System role in the modernization of the formal and informal transport in Greater Abidjan. The Ewarren team presented Ewarren technology aimed to provide dynamic data that will serve the commuter using the informal transport network." – Karamoko Camara, CEO & Founder, Ewarren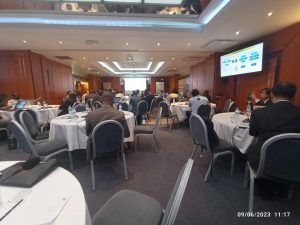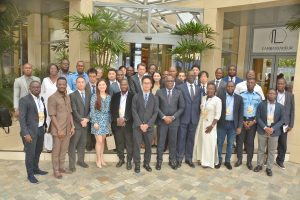 The Ewarren team presented at the Japan International Cooperation Agency seminar focusing on Intelligent Transport Systems' role in the modernization of formal and informal transport in Greater Abidjan.
GoMetro: « The GoMetro team is pleased to announce that the final project report has been completed and submitted. The study findings demonstrate a strong case for electric minibus taxi implementation in Stellenbosch, both operationally and financially. Moreover, the study reveals substantial emission savings associated with the implementation of electric minibus taxis, which particularly benefit women, the primary users of this service. Currently, we are focusing on the final deliverable of the project, which includes publishing a blog post about our findings. » – Rudi Kriel, Transport Economist, GoMetro
Partners Corner
Learn about informal public transport and the people who use it in Gauteng, South Africa.
How does informal public transport operate, and what are the experiences of the people who rely on it? Technology company WhereIsMyTransport produces public transport data in emerging markets, with their coverage including Gauteng in South Africa. A sample of their public transport data for Gauteng is available for free via their Data Portal, revealing:
The region's formal and informal public transport networks
Public transport stops for formal and informal modes
How the public transport network is split between formal and informal modes
Access the Data Portal to find out more!
WhereIsMyTransport also recently worked with the Transformative Urban Mobility Initiative in Nairobi, Lagos, and Gauteng, surveying women public transport users to learn about their journey experiences and safety and accessibility concerns.
They found:
High cost of public transport is one of the main reasons for service dissatisfaction.
Women in all three cities reported incidents of harassment at public transport stations.
Greater infrastructure investment in things like wider roads and accessible bus stops is a priority for some women.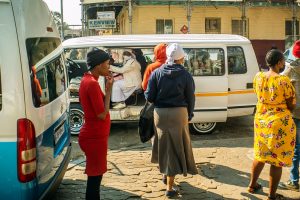 Passengers waiting for a minibus taxi in Gauteng, South Africa. Photo: WhereIsMyTransport
The full case study is available here and a report (PDF) from their work together is also available for download here.
If you would like to be featured in our next newsletter, please contact Esthelyne Dusabe at esthelyne.dusabe@wri.org.
The DigitalTransport4Africa (DT4A) initiative, led by WRI and partners and funded by the French Development Agency (AfD), is a digital data commons community that supports improved public transport and access in Africa. We promote open, standardized data, open-source tools, ethical data stewardship and peer-to-peer sharing.