Welcome to the February edition of DT4A Newsletter. Find out what's new at DT4A and in the digital transport ecosystem and much more. Enjoy the read!
2023 marks the third year of DT4A and it will be significant as the project deploys in pilot cities. Over the next 12 months, we will further explore the practical solutions we've identified to transform Africa's transit, sharing on-the-ground challenges and opportunities towards public transport data with special attention to popular transit options.
By the end of 2023, we will complete public transport mapping and capacity-building activities in our nine cities: Abidjan (Côte d'Ivoire), Addis Ababa (Ethiopia), Alexandria (Egypt), Kampala (Uganda), Khartoum (Sudan), Kumasi (Ghana), Maputo (Mozambique), Stellenbosch (South Africa) and Lusaka (Zambia). DT4A will continue to organize workshops and training throughout the year and participate in mobility conferences to share our work. We also plan to hold three partner meetings to harness the momentum of consortium partners in addition to regular bi-monthly Advisory Steering Committee meetings that will help guide DT4A's work. Most importantly, we will continue to make GTFS data available on the DT4A GitLab repository.
Stay tuned for more via the DT4A webinar series, newsletter, and @WRIAfrica and @WRIRossCities.
Alexandria on the Map
We are excited to announce that the DT4A repository acquired additional datasets from the city of Alexandria (Egypt). In a collaborative effort between DT4A and Transport for Cairo (TfC), funded by the French Development Agency (AfD), DT4A engaged the team to successfully map the public transport system network of Egypt's second most-populated city.
Alexandria was selected for full-scale data collection and GTFS data curation based on multiple factors, including that the city is working on major mobility infrastructure projects, including the rehabilitation of the Raml tramway line and Abu Qir metro line, and can potentially leverage our GTFS data in their data-driven decision-making processes.
Data collection was primarily performed by students from Arab Academy for Science, Technology & Maritime Transport (AASTMT). TfC provided capacity-building sessions for 80 students from the academy focusing on the theoretical and practical knowledge of digital data and its use for transport planning and analysis. The capacity-building sessions and data collection were conducted using Observer and RouteLab, applications developed by TfC. Data collection was conducted on 104 transit routes between November and December 2022. TfC and the AfD Cairo office are now discussing how to leverage and expand this effort. The GTFS data and other visualizations are available on the DT4A GitLab repository.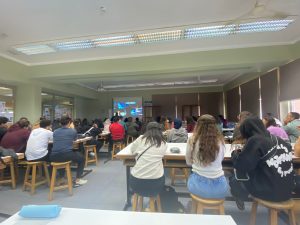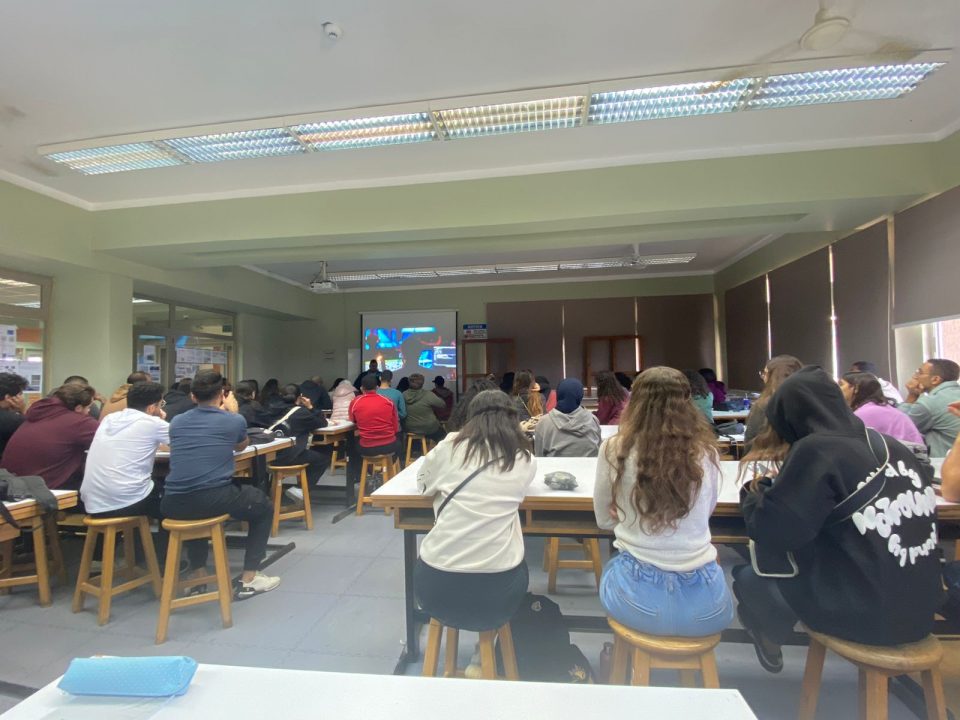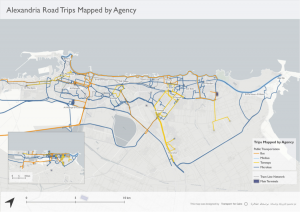 Lusaka Joins DT4A
WRI, through the DT4A initiative, has been awarded a grant for « Mapping Public Transport in Lusaka, Zambia: Quantifying Environmental and Equity Impacts of an Integrated System. » The grant, funded by the UK Foreign Development and Commonwealth Office's Flexible Research Fund (FRF), aims to support investment in sustainable energy and transport systems to meet development priorities in developing countries.
Together with Transport for Cairo (TfC), the local Humanitarian OpenStreetMap team and Zambia Road Safety Trust, we aim to conduct a comprehensive mapping of the public transport system in urban and peri-urban areas of Lusaka through a people-centered approach, develop user-friendly tools to model and estimate greenhouse gas emissions from bus fleets, quantify access to integrated public and non-motorized transport (NMT) systems, and identify NMT corridors based on accessibility analysis. We will also work with ITDP Africa and local universities. These efforts are aimed at supporting and scaling up DT4A in terms of building the community of practice, ecosystem and funding for digital transport networks.
Transforming Transportation 2023: Accelerating Toward Green and Inclusive Mobility
Transforming Transportation 2023: Accelerating Toward Green & Inclusive Mobility, organized by the World Bank and WRI Ross Center for Sustainable Cities, will occur in Washington, DC, on March 14-15, 2023. The hybrid conference will bring together a diverse audience from around the world, engaged on pressing development issues around sustainable transport and mobility. Transforming Transportation 2023 will pay special attention to ongoing challenges such as climate change, COVID-19, and macroeconomic instability, taking the current context as a starting point to reimagine transport and make it more inclusive, safe, sustainable and efficient.
WRI Africa and WRI Global, in partnership with AfD and with the support of DT4A partners, will attend the conference to meet with transport professionals and to learn, interact and forge new connections. The DT4A project will also host a workshop meeting of partners and friends on March 16, 2023, to discuss the progress of the project and opportunities for enhancing project delivery. Details to follow.
We hope to see you to celebrate the 20th anniversary of this flagship conference at a time of profound change for transport and global development.
General registration is required for all attendees.
DT4A Webinar Series
The DT4A Webinar Series is a monthly webinar organized by WRI and consortium partners to facilitate knowledge exchange around public transport and data initiatives in African cities and beyond.
Building Open-Source Transport Data Collection Tools: A Sustainable Approach | January 18, 2023
The lack of transport data on diverse modes available in African cities often results in urban planning decisions made without consideration for what exists, what works and what does not. While collecting transport data is an important first step in supporting digital transformation of African cities for better mobility services and access, one cannot deny that it comes at a cost. However, ways exist to lower costs and improve impact through open data, open-source tools and building "digital commons." Arcadis IBI Group, MobilityData and Trufi have developed open-source tools to facilitate low-cost data collection and sharing. In this recorded session, the team demonstrated their tools and how to access them. They also discussed how to go beyond mapping to leverage the collected data and tools for improved services. Presented by Ritesh Warade, Director and Philip Cline, Transit Technology Analyst, from Arcadis IBI Group; Tu-Tho Thai, Director Partnerships and Events from MobilityData; and Denis Paz Jiménez, Business Development Manager, Trufi Association e.V.
What Kinshasa Tells us about the Impact of Flooding on Urban Transport and Accessibility | February 15, 2023
This session focused on examining the physical and economic impacts of seasonal flooding on public transportation services in Kinshasa, Democratic Republic of Congo. Justin Coetzee (GoMetro) presented the results of a public transport survey that leverages GTFS datasets collected during both standard and flooded conditions, high-resolution global flood maps, as well as travel survey data that encompasses traveler's socioeconomic attributes and trip origin-destination information. By combining and processing these data sources, the study aims to evaluate the commuting delays caused by floods, determine corresponding opportunity costs on businesses and communities and pinpoint critical links in the transportation network to ultimately minimize travel disruptions during floods. Paolo Avner (World Bank) and Yiyi He (Stanford University) joined the conversation to talk about the study's methodology and findings.
Join Us: If you are interested in presenting your work at one of our webinars, please fill out one of the webinar timeslots: DT4A Webinar Series. Your presentation should be directly related to digitalization, mapping and innovative public transport projects in African cities. The presentation should have African representatives as well as gender balance.
DT4A Innovation Challenge
DT4A launched the DT4A Innovation Challenge in December 2021 to spotlight and award innovative urban mobility mapping initiatives. The first four winners of the DT4A Innovation Challenge were chosen in June 2022 from more than 100 submissions. AddisMap (Ethiopia), Ewarren (Côte d'Ivoire), GoMetro (South Africa) and KhartouMap (Sudan) are now in the midst of a 12-month implementation period and telling their stories of impact across Africa.
Check out what our innovation winners are up to, in their own words:
AddisMap: "We released the AddisMapTransit trip planner app for the web and another website to share the progress, we've made on our project. We held the first mapathon focused on public transport mapping to further support the mapping initiative. We launched the AddisMapTransit public relations and promotion campaign to raise awareness and promote the app." -Alazar Tekle, GIS Expert, AddisMap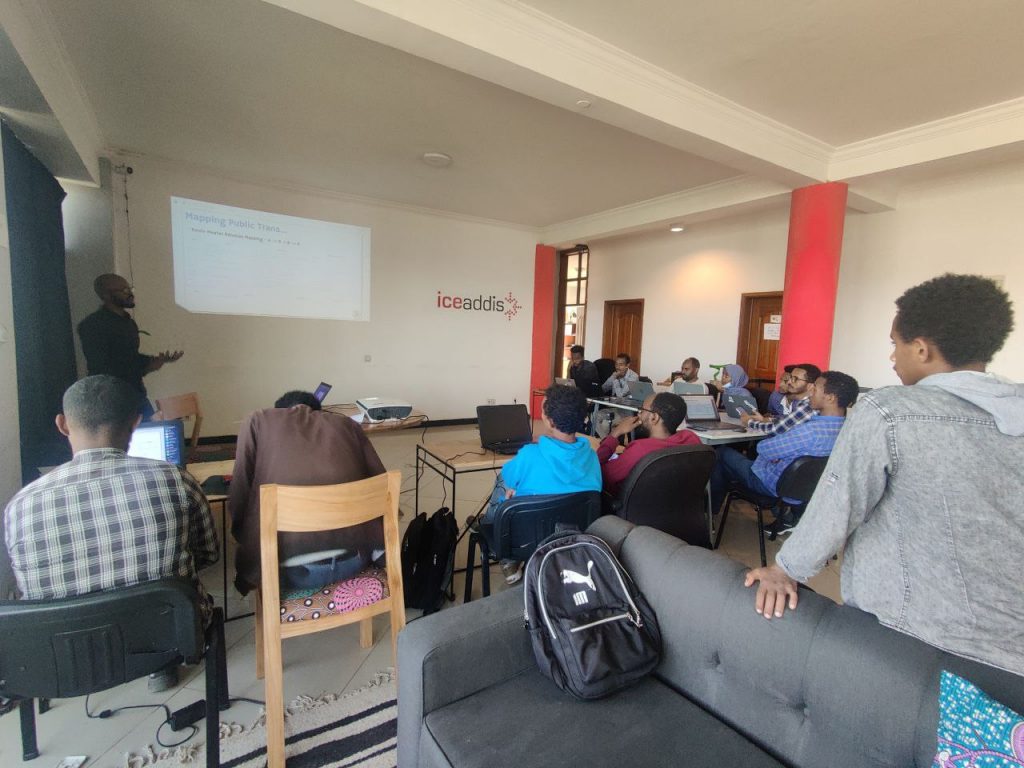 AddisMap team providing training on transit mapping to the OSM Ethiopia community of mappers
Ewarren: « Ewarren's team passion for sustainable mobility is reflected in every step towards the goal of sustainable mobility in developing countries. With over 210 routes and 1,000 stops already mapped, Ewarren will soon make available a complete map of the informal transport network of Greater Abidjan." -Karamoko Camara, CEO & Founder, Ewarren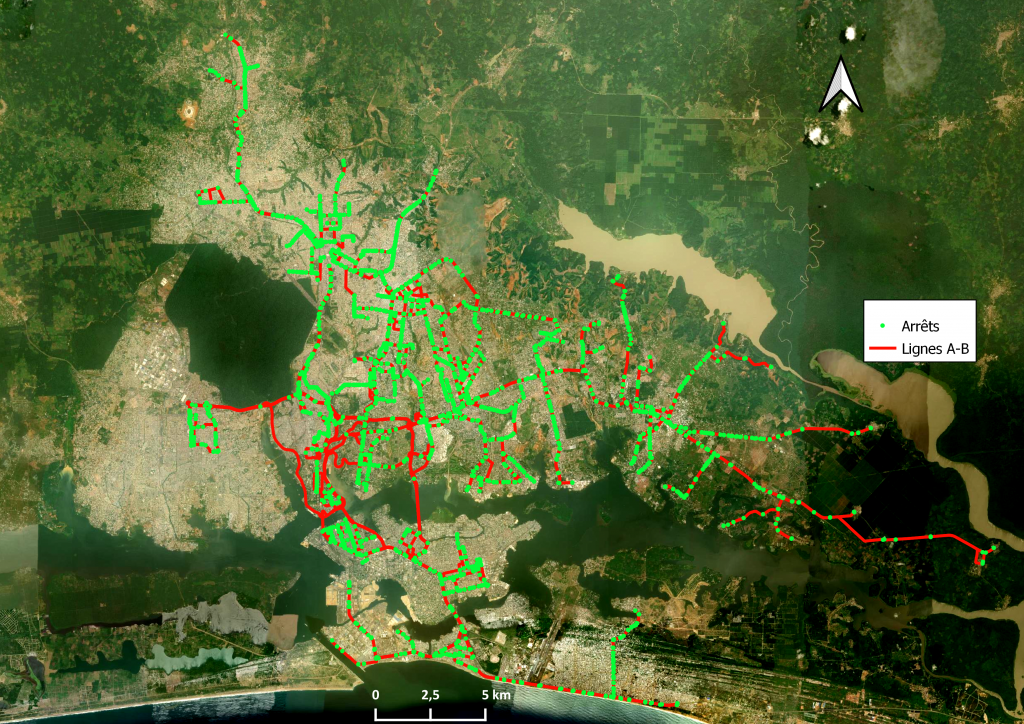 Ongoing mapping of informal transport by Ewarren in Abidjan
GoMetro: « GoMetro has concluded its first phase of data collection of the minibus taxis in Stellenbosch, South Africa. From this data, the initial analysis shows that the majority of minibus taxis are compatible with electric minibus taxi performance. The next step in this project involves a deep analysis of the phase 1 data, and the initiation of the on-board data collection phase 2 where we'll be collecting data to determine the financial viability of electric minibus taxi implementation. » -Rudi Kriel, Transport Economist, GoMetro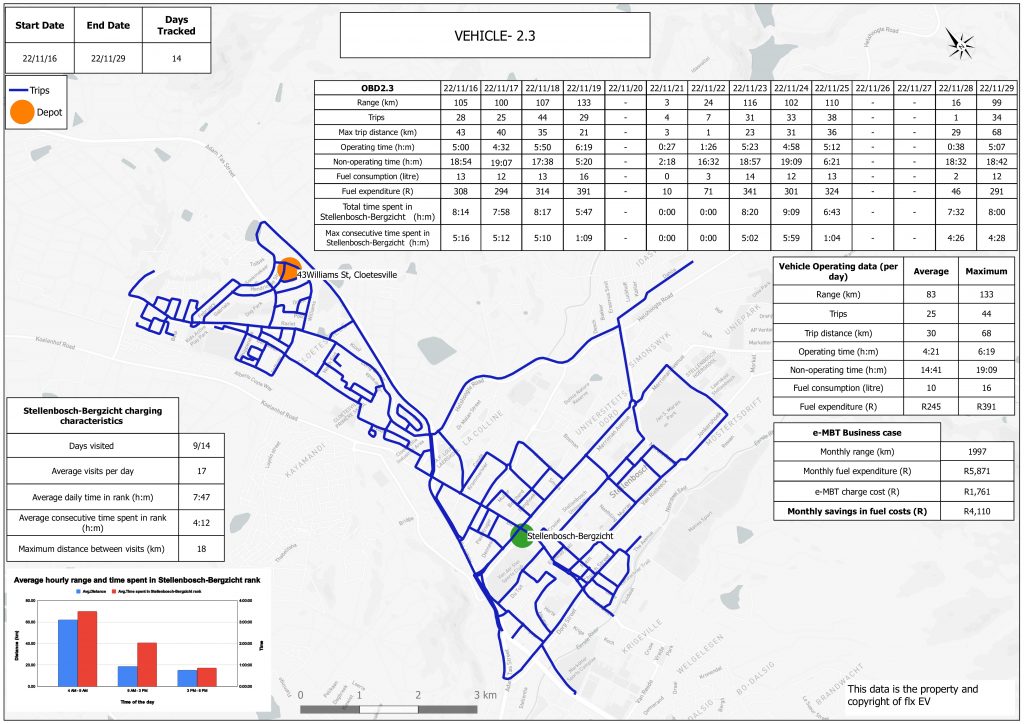 Ongoing data collection by the GoMetro team in the Stellenbosch municipality
KhartouMap: "The KhartouMap team is nearly done mapping the 300 routes that serve Khartoum and creating the first-ever comprehensive system map! The team has also started announcing strategic partnerships with stakeholders that will support the second phase of the project, focused on education, innovation and entrepreneurship." -Awad Abdelhalim, Co-Director, KhartouMap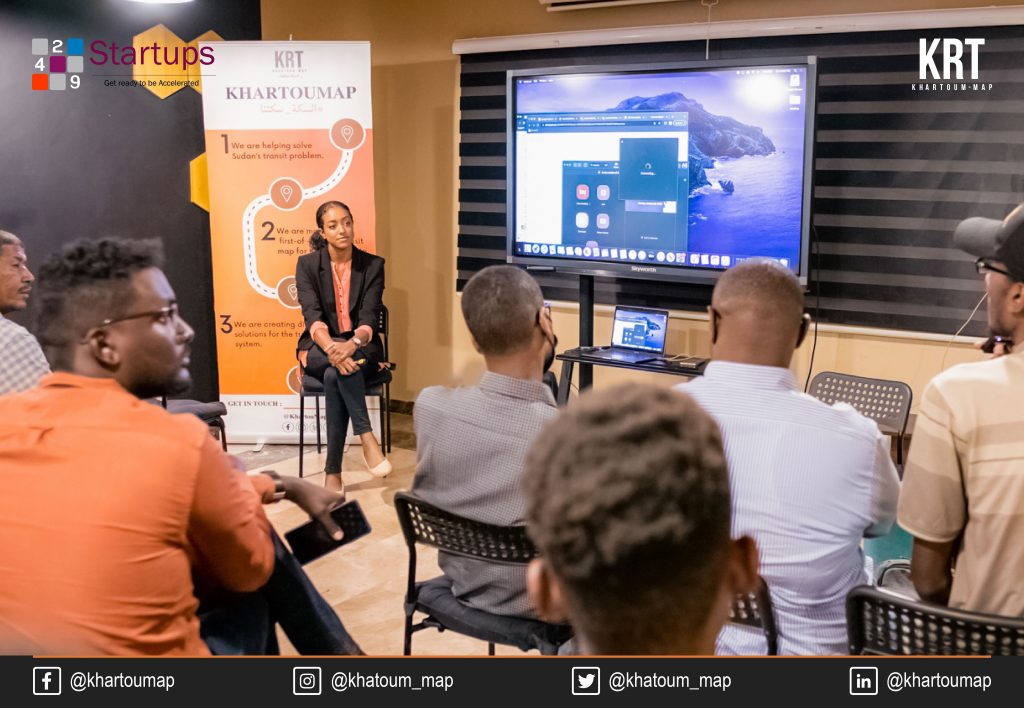 Ongoing mapping of informal public transport in Khartoum
Partners Corner
The DigitalTransport4Africa (DT4A) initiative, led by WRI and partners and funded by the French Development Agency (AfD), is a digital data commons community that supports improved public transport and access in Africa. We promote open, standardized data, open-source tools, ethical data stewardship and peer-to-peer sharing.